Face yoga is making the headlines of social media content. From tips to apps and workshops, face yoga seems to be everywhere you look. So what's the deal? What is face yoga exactly, how does it work, and what are its benefits? Read on to learn everything you need about face yoga.
What is face yoga?
As its name indicates, face yoga is a set of exercises and massages that targets your face, neck, and shoulders. It is considered a holistic workout and is believed sometimes to replace botox. Face yoga has been found to be effective in strengthening your facial muscles, making your face look more structured, and making you look younger.

Face yoga is not just a few impressions here and there, it needs to be consistent. A properly balanced face yoga routine that includes relaxation, massage, and acupressure, can go a long way in improving your overall well-being.
Face yoga routines are developed depending on the area of your face you wish to target the most. Whether you have lines on your forehead or frown lines, some exercises help a great deal. Overall expressions can also indicate anxiety or stress-related insomnia, making your face look tired. Face yoga can help target that and make you feel mentally better.
It is easy to find instructors, workshops, or courses that can teach you the face yoga technique and allow you to practice it frequently until you get the desired result. It will also become part of your routine and lead to long-term changes that can only be positive for your mental health and overall well-being.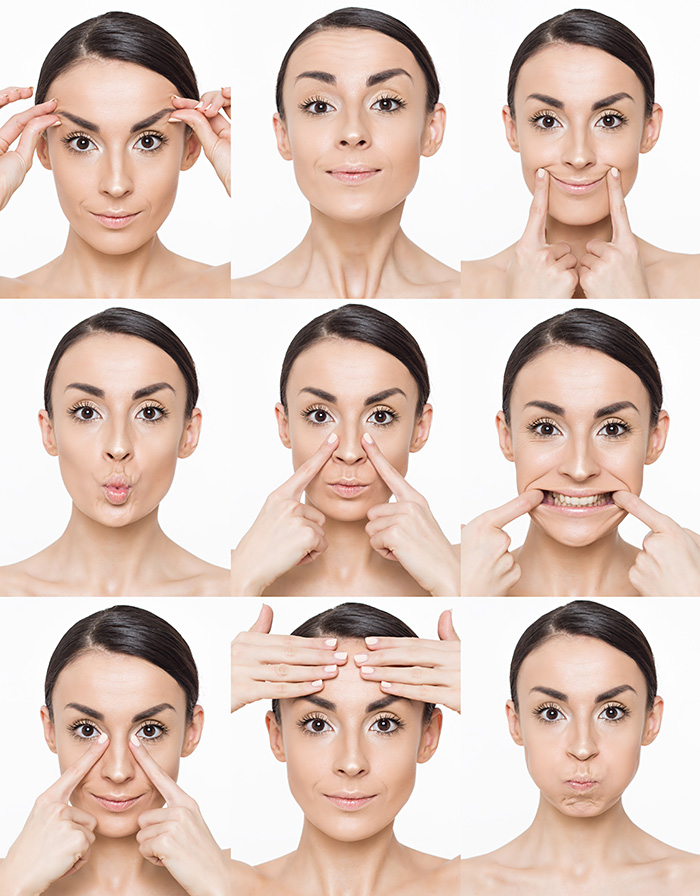 What are the benefits of face yoga?
"Our faces show us what is going on in our bodies".
Whether you have been losing sleep because of a tough phase you're going through, or have been worried about deadlines and managing things at home, or even if you've been feeling rested and well lately, your face says it all.
Starting the practice of face yoga can help a lot as it has been shown that moving your facial muscles can have an impact on the alignment of your whole body.
Here are the key benefits of practicing face yoga:
Acts as a natural facelift by firming the muscles that are under the face's skin, smoothing lines and wrinkles.
Improves lymphatic drainage.
Release tension in the face, leading to fewer headaches and neck pains.
Improves the appearance of the skin, leaving it glowing.
Improves the brain's blood circulation, as well as the glands that help in the creation of hormonal balance.
Increases energy levels, leading to more positivity and optimism.
Using acupressure techniques boosts circulation and relieves stress.
Prevents sagging of the facial skin and deep expression lines.
As you practice face yoga, you will feel yourself being more aware and mindful of your expressions and therefore of your emotions and where they appear in your body.
This all leads to more self-confidence and positivity, as well as fewer physical pains such as headaches, sinuses blockages, teeth grinding, bad postures, and insomnia.
5 face yoga exercises you can try
So what are some examples of face yoga exercises? How do you start and what are some issues you might want to target?

Let's start with the basics. First, face yoga exercises should feel comfortable. You may feel your face warming a little, but there shouldn't be any pain or discomfort. If you are feeling uncomfortable, please stop. Second, it is important that your face and hands are clean before starting your face yoga practice. It is best if you have an oil or serum at hand so that your fingers can easily slide on your skin without irritating it.

And now, here we go. Here are 5 face yoga exercises you can try at home:
To release tension.
This exercise can be done when you need to calm down at any time of the day or right before sleeping for a good relaxation moment. Start by placing your fingers on the outer corners of each eye. Then, gently press for 30 seconds. After that, circle gently for 30 seconds in each direction.
Puffiness around the eyes.
To diminish puffiness around the eyes and boost circulation in that area of the face, start by placing your ring fingers on the inside of each eyebrow. Then, tap gently towards the outside, press on your temples for a few seconds, and continue tapping around your eye circle until you reach the inner corner of the eyes. Do it a few more times.
To decrease neck tension.
This exercise will help if you have sagging skin around your neck and jaw. For 30 seconds, repeat the following movement: Starting with your fingers at the top of your neck, slide down your fingers until your collarbone, pressing into it for a few seconds, and then releasing.
Unlock your jaw.
To lift the jaw and neck muscles, start by making a fist with your left hand and placing it outside your jaw. Make sure your thumb is facing down. Then, start turning your head into your fist. A stretch on the side of your neck should be felt here. Make sure your hand doesn't move and press your jaw into your hand. After a few seconds, release gently and start with the other side.
Face tapping
Like body tapping, face tapping will help boost circulation and will certainly help you relax. Starting on your forehead, tap your skin with your fingertips with a rhythm. Do it all along your face, moving to your jaw and continuing to the front of your neck, and finishing with your shoulders. Then, work your way back up to your head. Once you reach your head, rub your palms together until they are warm, and cup your hands over your face. Keep your hands there while breathing deeply several times.
Face yoga is growing in popularity and for a good reason. It is a great way to practice self-care anywhere and anytime. It has a lot of benefits and can only generate positivity, more balance and more happiness in your daily life. Remember to practice it regularly by taking a few minutes to yourself every day.